A Chronicle of the Boys & Girls Clubs of Carlsbad
Friday, November 14, 2014
OWN A PIECE OF CARLSBAD HISTORY!
OVER 75,000 SERVED … A CHRONICLE OF THE BOYS & GIRLS CLUB OF CARLSBAD
Available Beginning December 15, 2014
DISCOVER
the rich, 62-year chronicle of the Boys & Girls Clubs of Carlsbad, recounted by people who impacted and were impacted by the Club from its inception in 1952 through today.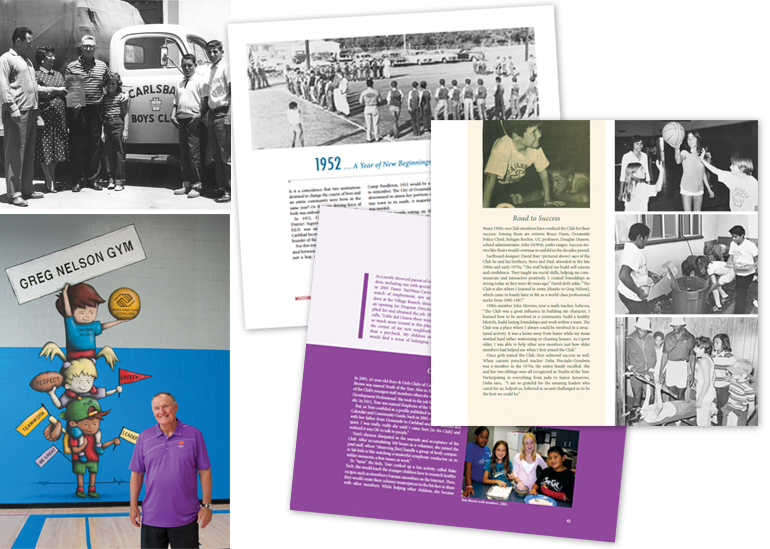 Created by Lifetime Honorary Board Member Gregory R. Nelson, Sr.
RELIVE the past through first-hand accounts of Board Presidents, Executive Directors, Club Kids and Community Leaders
· Over 40 remembrances, from people such as founding Board Member Robert Watson and Club Member #1 John Penrod.
· Historical photos throughout the years.
· A decade-by-decade recounting of events, including challenges surmounted and opportunities seized.
LEARN about the closely intertwined connections between the Club, the City and the community of Carlsbad.
ENJOY reading the experiences of others and RECORD your own Club Memories on a special page.
Donation Per Book: $55 per book or $500 for 10 copies.
Your purchase funds ongoing operations at the Club which has served thousands of children ages 6-18 from 1952 through today … and beyond.
Books are available at:
Village Clubhouse, 3115 Roosevelt Street, Carlsbad 92008
Bressi Ranch Clubhouse, 2730 Bressi Ranch Way, Carlsbad 92009
Securely on-line (select BUY NOW above).
Books obtained at a clubhouse can be purchased via cash, check or credit/debit card.
Donations are tax-deductible as provided by law.

Proceeds benefit the Boys & Girls Clubs of Carlsbad, a 501(c)3 nonprofit organization.